Leaderboard
Maybank Malaysian Open - R4

| Player | Score | H |
| --- | --- | --- |
| L Westwood | -18 | 18 |
| B Wiesberger | -11 | 18 |
| L Oosthuizen | -11 | 18 |
| N Colsaerts | -11 | 18 |
| D Willett | -10 | 18 |
| P Larrazabal | -10 | 18 |
| J Quesne | -10 | 18 |
| T Pieters | -9 | 18 |
| R Karlberg | -9 | 18 |
| A Lahiri | -8 | 18 |
Q&AS WITH KJ CHOI, RORY SABBATINI
Last updated: 16th January 2008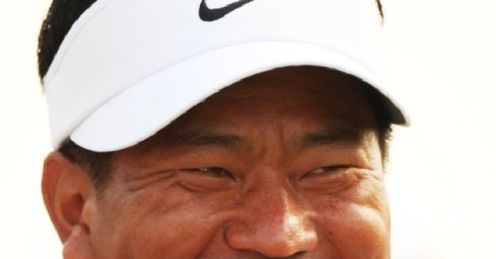 Here is the full text of the Q&AS conducted in Honolulu with KJ Choi and Rory Sabbatini after Choi had held off a charging Sabbatini and won the Sony Open
US PGA Press officer Doug Milne opened the press conference.
Milne: Choi, welcome back. I think you've been in the media center as much as the rest of us this week. Congratulations on your victory at the Sony Open in Hawai'i. With this win you pick up 4500 FedExCup points. Tough day, but you got the job done. Just a couple general opening comments.
KJ CHOI: I can't remember having such a difficult round as today. It was very difficult conditions out there. I told myself, try not to lose focus. I really think the Lord helped me, making me feel comfortable.
Q: At what point were you nervous out there?
CHOI With strong winds ow there today, it was very hard to make decisions, and actually every shot out there was difficult, was risky, because you never knew where the ball would go. But I think after when I made that three-putt that really woke me up. It was kind of like a medicine.
Q: What do you mean by that?
CHOI It woke me up and said, you know what, I have to hang in there, not fall apart. It motivated me.
And I believe you could maybe find this out for sure, but I believe today marks the 105th anniversary of the Korean immigration. Today was the day that we first came over to Hawai'i 105 years ago. For me to win this tournament on this special day really means a lot. I think that's why with all the support, all the fan support out there, it made it that much more special.
Q: Did you know that before the round started?
CHOI No. I heard it right after my round. A lot of people came up to me and told me that.
Q: After you won?
CHOI Yeah, after I won.
Q: Thank God they didn't tell you on the first tee.
CHOI They didn't want to give me the pressure and tell me beforehand.
Q: Did you have any kind of sense of what was going on behind you or in front of you, how all the challengers were doing?
CHOI You know, I really didn't know what was going on with the other players. You can tell, the conditions out there just didn't keep me in the right mind. I mean, I was fighting hard to stay in focus myself. No, I really couldn't spare to think about what they were doing out there.
Every shot was tough, and I was just trying to make every shot -- just keep it safe. So that was pretty much what was going on today.
Q: If somebody told you that you would have only one birdie today, would you still thought you would have won?
CHOI You know, honestly I would have thought I would have probably had to shoot 2-under to win, but with the conditions being so difficult out there, I just tried to stay focused with every shot and just keep it close until the end. I think even on the last hole, just keeping my concentration, getting that birdie secured everything.
Q: Have you any special plans to celebrate tonight, and particularly to thank your 11 friends from Wando?
CHOI I have an evening flight tonight so I'm going to try to just enjoy as much of it in the short time that I have tonight, just get a little short party going on. But today is a very happy day, and I just owe everything to the Lord up there, and just without Him I don't think I could have done it.
Q: What made him laugh a minute ago? What are you holding back from us?
MICHAEL YIM: I'm not holding anything back (laughter). He's happy.
Q: How does this set you up for the rest of the year?
CHOI It has a lot of implications for this year. I think the biggest thing I learned this week is no matter what the conditions are out there, you have to stay patient with yourself, and I think this experience here in Hawai'i is going to help me prepare for the major tournaments that are coming up because in those tournaments you have to be patient. You can't just get too greedy. You have to accept the conditions as they are, and I think it's going to help me prepare mentally for the major tournaments.
Q: Does it feel different winning on Hawai'i as opposed to winning on the mainland?
CHOI You know, Hawai'i is a special place to me because it's so much like my hometown, Wando Island. Wando you have water all around just like Hawai'i. There's a lot of similarities. There's mountains in the middle of the island. Just the whole atmosphere here just makes me feel real comfortable. I feel real at peace being here, and of course all the fan support, it feels like I'm right at home. The Hawaiian people are so nice to me.
Every shot that I take out there, I feel the support, so I think this win makes it that much more special.
Q: You've talked this week about how much support you've gotten maybe from the Asian community after Memorial and AT&T National last year. How much do you think people in general, golf fans, look as you as one of the top players? And if they don't, what would it take?
CHOI You know, I think my fan base is growing every year, 15, 20 percent every year, I think. Just wherever I go, whether it's Europe, whether it's Asia or mainland U.S., I feel that support. I think what's special about my fan base is that it's not just limited to one nationality or one community; it encompasses the Asian community, the Americans, the Europeans. It's very diverse. I feel like wherever I go I play a lot of the international tournaments. When it goes to South Africa and you see people over there just welcome me. So the fan base is really diverse.
And I try to be very humble. I don't try to get too ahead of myself. I feel like if I'm one of the top players, then there's no room for improvement. I always think that you have to respect the other players, as well, because when you have someone that you feel like you have to surpass, that sets a new motivation, a new goal. You can't just be thinking that, hey, I'm good, I'm one of the Top 30, and not try anymore. You have to be aware of the other players involved.
Q: Do you feel you have to win a major to be fully recognized as one of the top players?
CHOI I'm not really too concerned about that because I'm not trying to win a major just to gain respect or just to gain more fan support or increase my fan base. You know, I want to win a major because I want to win a major, and that's my goal. I'm a professional golfer, and winning a major is the highest achievement a professional golfer can achieve. I think if I work hard and win that major, all the rest will just follow that. I don't have to worry about anything like that.
Q: Which major do you think gives you the best chance?
CHOI I mean, all the major championships are difficult to win. I would love to win any one of them, but for some reason, maybe it's because I came to close to winning The Masters, my heart is really with the Masters. Just the fact that such a beautiful course as Augusta National was designed way back then at that time, it's just amazing. I have tremendous respect for that golf course and the tournament. Just the fact that I've been playing in the Masters the past few years, I feel so proud about that, you know. Just for some reason, I don't know why, but it just makes me feel very comfortable being there at The Masters.
Q: It's said that people from Cholla province are conservative and strong focused. If so, do you think you fall in that category?
Choi I think, yeah, the people, the province where I'm from, Wando is part of the Cholla province, it's their lifestyle. People down there, their jobs, they work very hard. There's a lot of manual labor jobs where you have to actually physically use your body. So in the old days there were a lot of farmers out there before the machines came in. It's just the lifestyle. I think that's what makes people down there very tough, and I think I learned a lot from that just coming from that part of Korea.
Q: Four years in a row winning, I think only Tiger, Vijay and Phil have done that. Do you feel like you're kind of in that class? Do you feel comfortable being affiliated with them?
CHOI That's a very interesting fact that I didn't know. But again, I'm not really concerned about things like that because I just found out, but I achieved it because I didn't think about it. It was all through hard work. And all I can do right now is just try my best and just try to fill this empty cup that's out there, keep on filling it up.
There's a lot of improvements that I need to make, and all I can say is I'll just keep on trying my best.
Q: How full is the cup? It's not bone dry, is it?
CHOI It never gets full. When it's half full then you just empty it out again and just keep on trying to find improvement.
Q: You mentioned patience was importance for winning the big tournaments to come. Do you think you've always been a patient man?
CHOI I try to be a very patient man. I'm not perfect, but that's why I try; I pray every day, I read the Bible. Through that I'm able to learn about patience. I think that's important. Without patience, you can't really accomplish anything in life. I think especially the sport of golf, you really need to be patient out there. I have my own way is through my peace with the Lord, and that's what really helps me try to be a patient man.
DOUG MILNE: K.J., congratulations.
The US PGA's Stewart Moorde conducted the Q&A with Rory Sabbatini, the runner-up at The Sony Open on Sunday:
STEWART MOORE: We'd like to welcome our runner-up to this year's Sony Open in Hawai'i to the interview room. Great playing today, very difficult conditions, 68, though. You had the double bogey on 8 and then really fought back. Just talk a little bit about the round out there today.
SABBATINI: Well, obviously Waialae showed its teeth today. It's obviously a golf course that played fairly timid all week long, and even though the rough was up, it kept the scoring relatively high for this tournament. It showed its teeth today, and it kind of brought the field back a little bit. So it really played to its true nature.
MOORE: With a runner-up finish today, 2700 FedExCup points, another successful year, hopefully off to a good start.
SABBATINI: Definitely. All things considered, especially after the last two weeks, I'm obviously extremely happy about my new equipment. It's performing even better than I could have imagined with as short of an adjustment period as we had to get used to it. It kind of gives me a lot of confidence going into the rest of the year and it gives me a lot to look forward to.
Q: What did you do to make six birdies today in these conditions?
SABBATINI: Actually, you know, you keep hitting shots on the greens, and these greens are pretty true. They run pretty well for Bermuda greens. You know, you give yourself enough looks, you're going to make some putts out there. I definitely gave myself enough opportunities today.
Q: On 8, I think I heard on TV, was that a 2-iron off the tee into a tree hazard?
SABBATINI: Yeah, I hit a 2-iron off the tee. Driver was too much club there today, and 2-iron has been going pretty typically down this golf course around 300 yards with the rollout. That was the number that we were looking for, and unfortunately I didn't execute the shot that I wanted to. I just kind of smothered it and laid it up in the creek.
Q: At that point, and you knew what you faced at the start of the day obviously, a six-shot deficit, I guess. I know you're not giving up at that point, but what are your thoughts on the tournament? You can't afford a double obviously when you're six shots behind.
SABBATINI: When you're six shots behind you've got to go low and post a number up there. There were two things that needed to happen today for someone else other than K.J. to win, and that was for K.J. to lose a few shots back to the field and for someone to go low. He kind of did his part and kind of brought himself back towards us a little bit, but the ones of us that were chasing unfortunately failed to do our jobs and go low enough to maybe change the outcome.
Q: With K.J. four ahead, when you saw the conditions this morning before teeing off, what sort of number did you have in mind for yourself?
SABBATINI: I didn't really go out there with any particular number in mind. I knew I needed to go out there and play well and make as many birdies as I could because on this golf course in these conditions it's inevitable you're going to make a bogey or two out there. You know, I just knew I needed to put the ball in the fairways, put it on the greens and give myself some birdie opportunities. I got off to a good start but obviously had a few little mishaps on the way. Unfortunately it just left me a little too shy.
Q: I probably should know this, but where did you finish last week?
SABBATINI: 17th.
Q: But nevertheless, four Top 10s to end the year last year and a Top 2 here, you're turning into a machine as far as contention. Even with new clubs, how do you feel about that? Is it giving you confidence even more that you just picked up some new clubs and you're sort of picking up where you left off last year?
SABBATINI: Definitely. Obviously I'm actually extremely excited about the change in equipment. You know, I think the Adams irons are quite potentially the best irons I've ever hit, and I've hit a pretty broad spectrum of the irons, what Adams considers their game-improvement irons. In my opinion they perform pretty well. They perform like pretty good precision instruments out there.
And then the driver and the ball combination has just been phenomenal. Obviously the driver, I'm hitting it well, it feels good, and my confidence is probably about as high in my driving as it has been. Between that and the irons, I continue to hit the ball as well as I felt I've hit it the last two weeks, and I'm definitely looking forward to the rest of the year.
Q: Do you wish now you were playing Hope?
SABBATINI: No. Actually, you know, I'm pretty content to have -- I'm staying over here for a couple more days and then going to go straight from here to San Diego. I'm going to enjoy myself, have a little bit of relaxation. It was kind of a busy schedule at the end of last year, and I'm looking forward to a week off here.
Q: You got some pretty good looks at wins over here, Kapalua and here, as well. When you think about Hawai'i, is it kind of discouraging that you haven't been able to do it, or does it make you feel optimistic?
SABBATINI: Obviously it makes me feel optimistic. At the same time, I've worn the bridesmaid's gear three times now. I'm looking forward to one of these times getting in the winner's circle over here.
Q: How long have you been in Hawai'i this trip?
SABBATINI: This is four weeks now.
Q: That's a great trip.
SABBATINI: Definitely. What better place to start the year off than in Maui and Honolulu? I enjoy being here. I think this golf course here at Waialae is probably one of the consummate classic golf courses, and I think it's a very fair golf course but I think at the same time it's extremely tough golf course. So it takes a lot of concentration, a lot of discipline out here on this golf course, and it definitely obviously shows why K.J. is doing so well here.
Q: You've won before, but coming off last season, contention in majors and four on the Money List, thereabouts --
SABBATINI: Yes, I think five or six or the Money List.
Q: How important is it to back that up immediately?
SABBATINI: You know, obviously very intent on trying to continue to improve my game and continue to improve my consistency. You know, obviously the start to this year is a good sign of things to come, and hopefully I can continue to build on this week and last week and maybe get in that winner's circle fairly soon again here.
Q: Any adjustments to your schedule this year?
SABBATINI: Actually, no. Other than skipping AT & T on the West Coast, everything else on the West Coast is pretty much the same as it always has been.
Q: Through the majors, majors prep the same?
SABBATINI: Yeah, pretty much the same.
Q: Do you play the week before?
SABBATINI: I don't know what the schedule is. I play the tournaments I like to play, so that's what I'm going to continue to do.
Q: Can I get the iron on 16 real quick?
SABBATINI: On 16, into the green? That was a sand wedge.
MOORE: On that note, do you mind going through your birdies briefly today?
SABBATINI: Sure. No. 1, I hit driver off the tee, hit a 6-iron to about six feet, made birdie.
No. 3, hit 2-iron off the tee, hit a sand wedge to about two feet.
No. 5, hit driver off the tee, hit a 9-iron just right of the green, chipped it to about 10, 12 feet, missed it.
No. 8, hit 2-iron in the creek, hit a 7-iron in the greenside bunker, hit it to about ten feet and missed that.
No. 9, hit driver off the tee, hit 6-iron to about 30 feet, two-putted it.
No. 11, hit a 7-iron to about ten feet, made that.
13, hit driver off the tee, hit a 9-iron to about 30 feet, made that.
15, hit 3-iron off the tee, hit a wedge in the greenside bunker from the rough, left it on the fringe and chipped it and made bogey.
16, hit 3-iron off the tee, hit a sand wedge to about five feet, six feet, made birdie.
Q: Speaking of wind, is cross-wind probably the hardest?
SABBATINI: I'd say this course, it's one of those courses where the wind -- even though it's remaining from a pretty consistent direction, the wind coming through the trees can kind of buffer the ball a little bit directions-wise, and it definitely makes it tough. We kind of figured out the easiest way to avoid having to deal with most of that today is try and keep the ball as close to the ground as possible.
Q: Is this the most mentally testing of any of the eight rounds in Hawai'i this year?
SABBATINI: By far. In these conditions, this isn't even what you'd consider the typical tradewind here. This wind is one I've never really seen on this golf course before, and it made this course play extremely tough. It changed a lot of your viewpoints, a lot of your angles that you were accustomed to, what you had today. So you definitely had to kind of readjust your game plan out there.
Q: One other thing. I think there was a quote from you last week that you basically want to let your clubs do the talking, your game do the talking. Do you feel like this is part of that statement?
SABBATINI: Well, I definitely feel that the equipment that I'm using, the Adams irons, the Callaway ball, I think they suit me very well. I think they're by far the best equipment I've ever played. For it to only be my second event into a new product I'm extremely excited and looking forward to the rest of the year. I think what they've shown me the past two weeks has been absolutely phenomenal. I'm going to let people be the judge of my performance.
Q: Including practice rounds, how many rounds of golf have you played since you got to Hawai'i?
SABBATINI: You might want to ask my wife that question. I've probably played all but about four days.
Q: And then you're going to leave when?
SABBATINI: I think we leave Friday.
Q: Is that normal for you if you were to come on a vacation like this, or is this part of getting used to the clubs?
SABBATINI: No, my wife, it kind of drives her nuts. We get to Maui and I'm ready to go to the golf course. There's something about being over here that just gives me golfing fever. I enjoy the weather, I enjoy the people, and what more of a spectacular place to start the year than the islands.
Q: Will you play between now and when you leave Friday?
AMY SABBATINI: Yes. He'll take me to play actually. He's not allowed to play. I'm going to play.
MOORE: Rory, thanks so much for coming in.
Photo

Galleries

Some choice images from the final round of the Masters at Augusta, as Bubba Watson pulled of a superb repeat victory. Go to Gallery

The movers and shakers at the third round of the US Masters at Augusta National. Go to Gallery

Selected images from second-round action at the 78th US Masters at Augusta National. Go to Gallery
Neville Leck Blog
"The embrace a gleeful Sergio Garcia gave his German caddy after his first victory in 2013 at the Thailand Open on S..."
Courses

Nestling on the banks of the Mississippi, TPC Louisiana, scene of the Zurich Classic, is one of Pete Dye's best.

Quail Hollow Club, which next week hosts the Wells Fargo Championship, is one of the finest in Southeast USA.
Golf Lessons
Looking For The Perfect Pitch? Visit The Swing Doctor!